THE MOST COMMON QUESTIONS
Frequently asked questions
Purchase Process
Do you sell directly to the public?
---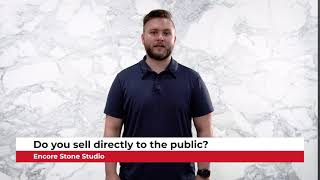 YES! We do sell slabs directly to the public.
---
Will you give me pricing for stone?
---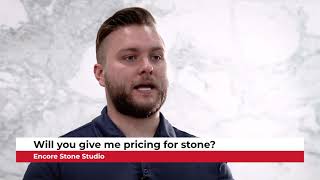 Yes! We offer full transparency and give you honest upfront pricing on all our slabs on the spot.
---
Do I need a designer or fabricator to purchase slabs through you?
---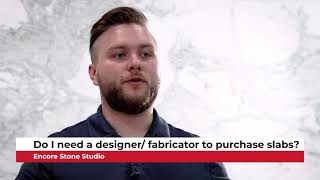 No, we are proud to sell directly to everyone.
---
Do you provide storage for purchased stones?
---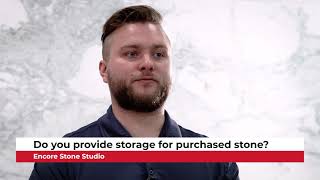 We offer free storage for up to 90 days from the day of purchase. After the free 90 day period there will be a $75 a month charge per slab
---
Why are some stones more expensive than others?
---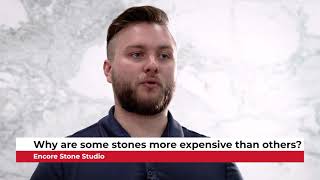 Stones that are harder and denser are more difficult and expensive to quarry and process. Quarrying methods vary as well; stones may be quarried below ground, which is more expensive than above ground. Also, since natural stone is quarried all over the world, long distance shipping factors into the price.
---
Can I view a stone from another Encore Stone Studio location?
---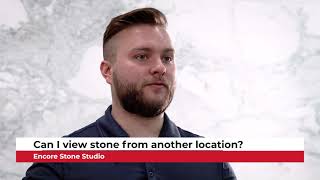 Yes! We offer an option to receive exclusive pictures and videos of certain slabs at other locations. We also offer the option to have the actual slab shipped to the nearest location for you to view for a small fee.
---
---
Delivery
Do you deliver stones?
---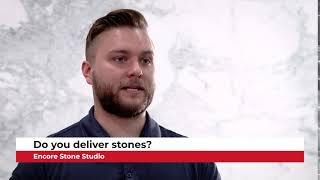 We do offer delivery of your stone Monday through Friday.
---
Can I pick up and transport my stone myself?
---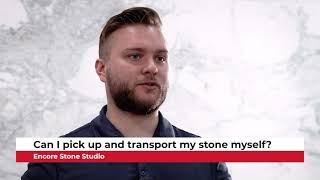 Unfortunately, not. Stone slabs are heavy and require specialty equipment to load and transport. For this reason shipping must be left up to carriers with specific capabilities.
---
---
Fabricators
Do you offer fabrication and installation?
---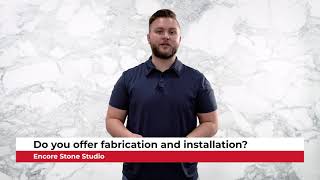 We do not offer fabrication or installation of stone. However, we can provide a vetted list of experienced fabricators that we have worked with in the past.
---
What should I do if my fabricator has left over remnants of my slab?
---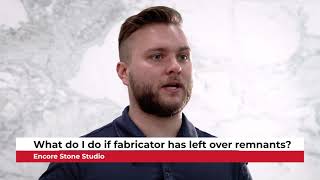 One thing that we suggest doing with small remnants of leftover material is having cutting boards or coasters made! This is a creative way to ensure that you use the full amount of your material
---
Do you have a list of fabricators that you recommend?
---
Purchased your stone and don't have a fabricator? We have you covered with this guide to the top fabricators in the local area of each of our locations. At Encore Stone Studio we ship your slabs to the fabricator of your choice for free as long as they are within a 100 mile radius. Click Here for a list of recomended fabricators in your area.
---
---
General Questions
Do you allow photos in the studio/warehouse?
---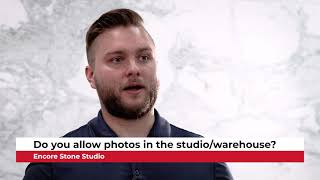 We do! We encourage you to bring your phone and snap a few photos of your favorite slabs for comparison.
---
Do you require an appointment to look around the warehouse/studio?
---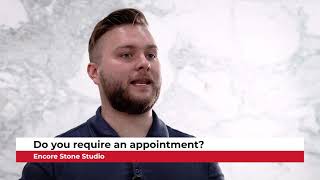 We do not require an appointment to come take a look at our inventory. However if you would like to call ahead and speak with a particular representative feel free to do so.
---
Are my kids allowed in the showroom?
---
Encore Stone Studio is a family friendly stone supplier so bring the kids and the rest of the family out for your slab selection.
---
Can I bring my dog to the showroom?
---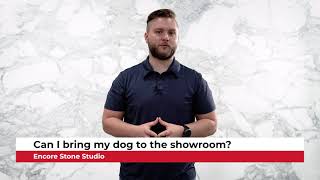 Encore Stone Studio is pet friendly! Bring your furry friends in for a treat while you shop for your new stone.
---
Where are you located?
---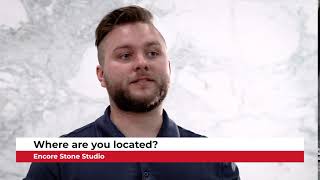 We have 4 locations in the United States. Our HQ in Austin, Texas and Charleston, SC Greenville, SC Birmingham, AL
---
Do you offer any special offers to industry professionals?
---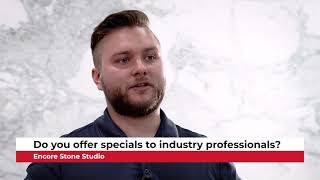 We do offer an industry professional program. Contact a representative at your Local Showroom for more information.
---
Are your slabs affordable?
---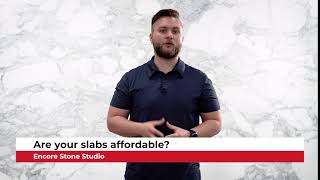 We offer high quality inventory with prices per slab starting as low as $350
---
Is natural stone a good investment for my home?
---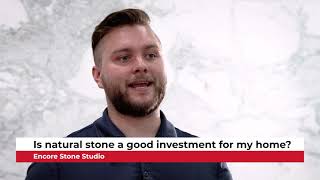 Natural stone is a great investment! The ROI (return on investment) for remodels on kitchens and master baths is over 90 percent. Natural stone countertops are a long-lasting investment that you will enjoy for years to come and that will increase your home's value.
---
---
Stone Questions
Where does the material come from?
---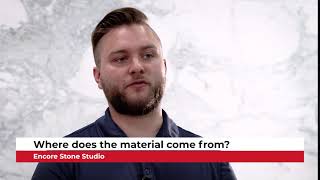 Our stones have origins from all over the world including Brazil, India, and Italy.
---
What is the difference between 2cm and 3cm?
---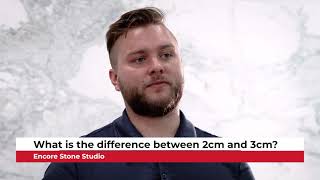 The 2cm stone is approximately ¾" thick, ranging from ⅝" to ⅞" in thickness. The 3cm is approximately 1 3/16" inches thick and can range from 1 1/16" to 1 5/16" thick. For kitchen counters we usually recommend 3cm for best structural support and aesthetic purposes
---
What does the word "bookmatch" mean?
---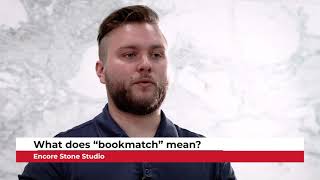 Bookmatching refers to matching the veining of two or more slabs of stone, so that the two adjoining surfaces mirror each other, like an opened book.
---
Do I need to seal my natural stone?
---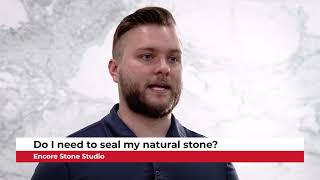 Natural stone is a dense and porous material, thus it can get stained if a spill is not cleaned quickly. Sealing the surface with a water-based sealant is recommended to protect the stone from water patches and stains. Sealing can be done once a year or once every two years depending on the frequency of use of the surface.
---
What quartz brands do you carry?
---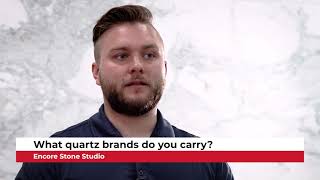 We carry a wide range of quartz products including: + Ceaserstone + Pacshore Quartz + Allenaza Quartz + LG Quartz
---
How can I use natural stone and quartz in my home?
---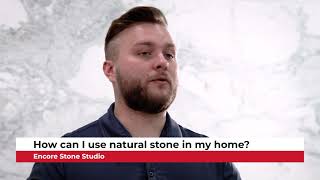 There has been a growing trend in recent years to use Natural Stone in residential construction for both structural and decorative use. Popular applications include entryways, atriums, bathrooms, fireplaces, floors, countertops, and many other surfaces.
---
Does natural stone emit harmful radiation?
---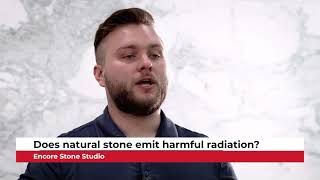 Natural stone tiles and slabs for commercial and residential applications do not emit harmful radiation.
---
How should I determine what color stone to pick?
---
The criteria for selecting stone color will depend on the application. Color choice can make a room appear larger or smaller, formal or warm and inviting. Consider the following characteristics: Lighter colors tend to make a smaller room seem larger. Dark colors tend to make a room more intimate and cozy. Solid colors, smooth and polished tiles show more dirt and require more maintenance. Patterned material, usually in a honed finish, is one of the easiest to maintain. Dramatic patterns can help highlight and accent portions of the room, including architectural features.
---
What are the types of finishes I can get on stone?
---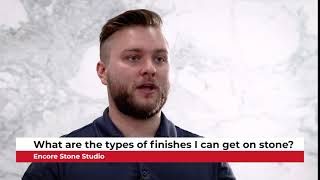 Polished Grinding, sanding, and buffing produces a high gloss, mirror-like surface. Honed Grinding and sanding produces a smooth, yet not glossy finish. This is best for low maintenance, high traffic applications. Leather Available only in Melange marble, this finish gives the stone a suede look and feel. This texture is smooth and slip-resistant.
---
---